BEVERLY HILLS (MI) -- Well folks, it's gonna be an all "Mid-Major" final in the ESPN Events Invitational as the Dayton Flyers will square off against the Belmont Bruins Sunday afternoon at 4:00 pm on ESPN2. How did UD get here?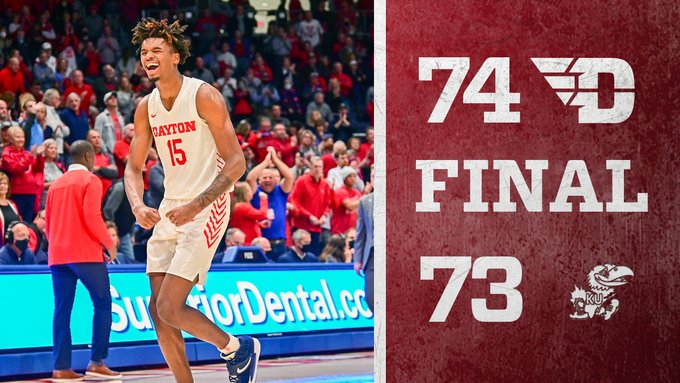 What does it all mean?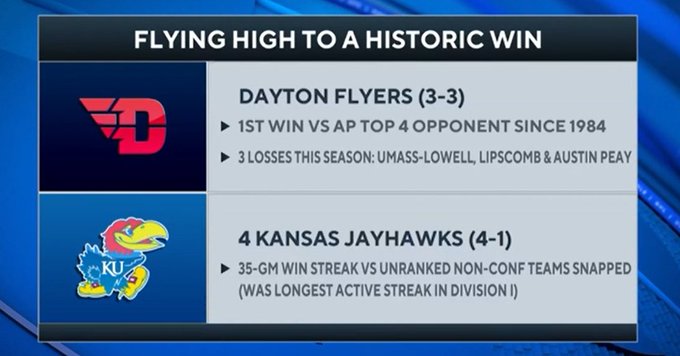 -- Here is Dickie V's call of Amzil's buzzer beater:
https://twitter.com/espn/status/1464333637168545802
-- Larry and Josh Postorino on WHIO radio:
https://twitter.com/bubbaprog/status...32098312065028
--
ESPN
with a different angle on Mustapha's game winner:
https://twitter.com/SportsCenter/sta...43329894666242
-- The Kansas radio call:
https://twitter.com/bubbaprog/status...37901689393161
-- Jablo let his camera roll for a few minutes after the game ended:
https://www.daytondailynews.com/spor...-b1b2308e4c86/
-- Charlie Duross from DaytonBasketball.com with a couple of nice videos. A highlights package:
https://twitter.com/charlieduross/st...16591052001285
And "Let's Freaking Go" from the locker room:
https://twitter.com/DaytonMBB/status...36334907138056
--This reaction shot of the KU crowd is priceless:
https://twitter.com/TheGolaStandard/...33125325103108
The end result?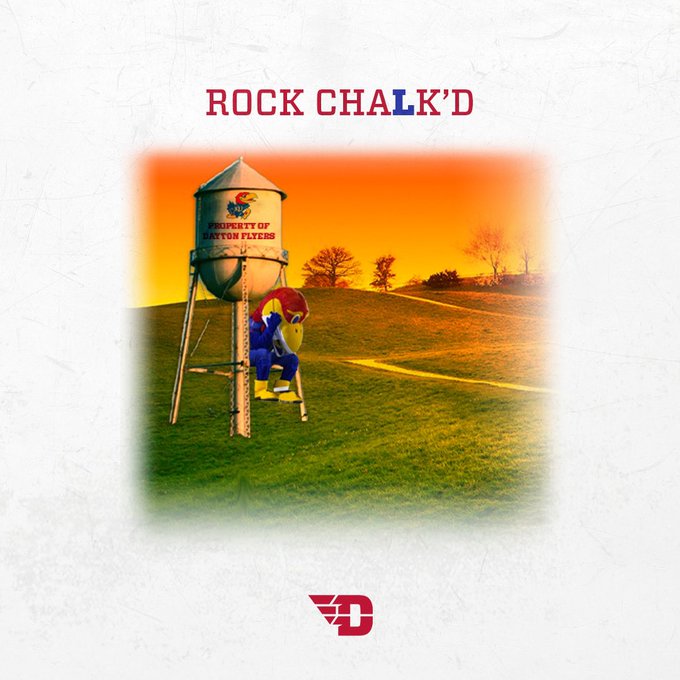 -- From here on in, Scoochie Smith will be known as Malachi's big brother.
--
Larry Hansgen
dropping some Flyer knowledge on Twitter:
He only took one shot in the game. @MustaphaAmzil saved the best for last

@DaytonMBB beating Number 4 Kansas is the highest ranked team the Flyers have beaten since Number 2 DePaul in 1984. Anthony Grant was on the bench for both wins!

-- Ken Pom says:
Unbeaten teams remaining: 31 (Sorry, Kansas).

-- My favorite sportswriter of all time, Bob Ryan, with his take on UD beating KU:
I think we just saw what will hold up as the college basketball buzzer-beating Finish of the Year: Dayton over Kansas.
-- Kendall Pollard gets the last word on one of the best days ever to be a Flyer:
WTF is Rock Chalk anyway?
That's it "From the Swamp."
You can email me at:
swampy@udpride.com