BEVERLY HILLS (MI) – There is only one single, solitary basketball contest remaining before your University of Dayton Flyers head off to Brooklyn to punch their ticket to the Big Dance – a road trip rematch with the St. Louis
Billikens
on Friday night. This one will lack the high drama of UD/SLU encounters of the past at Chaifetz Arena – there will be no ladder and scissors leaning on the basket support, forever waiting for the home team to cut down the nets. And no Jalen Crutcher to drop a game winning three point bomb on the partisans and reminding them
"I do this sh*t!"
The Red and Chapel Blue have already clinched the #2 seed and won't have to suit up until Thursday at 5:00 pm, giving players and fans almost a full week to chomp at the proverbial bit.
Before the Friday night fun commences let's take a look back at the final home tilt of the 2022-23 campaign: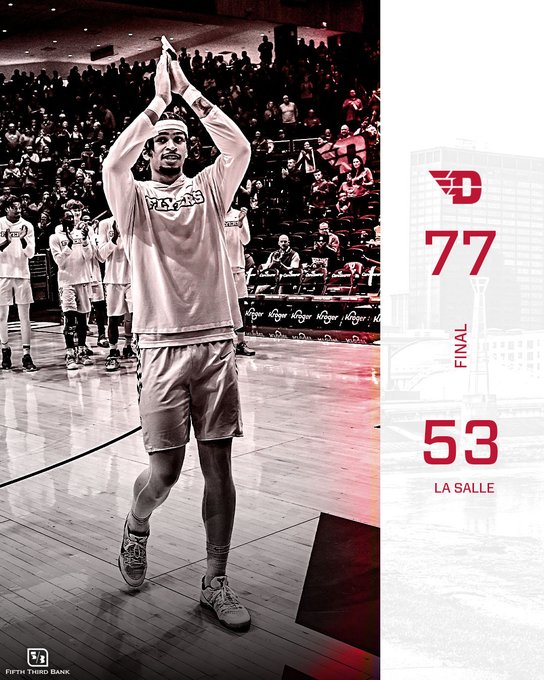 The halftime graphic was pretty good too: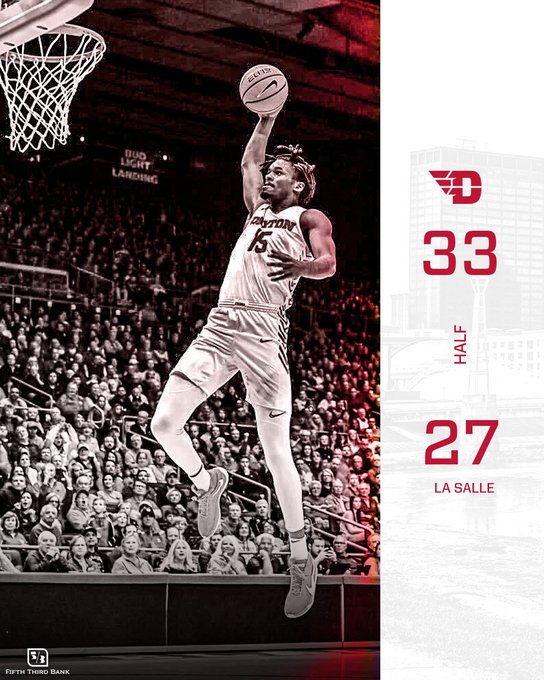 UD Hall of Famer
Brooks Hall
had these observations from the
LaSalle
win:
- Mike played with that early season confidence we fell in love with

- If we can get tonight's Brea in Brooklyn, we're winning 3 games

- Mali with 10 assists and 1 turnover 🤯

- Another opponent held under 60

While Mike's dad, the Mongolian Shark noted:
Mike had the first and last points of Flyers' this season at UD Arena. Both triples.
Best arena, best fan base.
Thank you guys.
AG and staff had a pretty impressive recruit behind the bench for Tuesday's game – Augusto Cassia, a slender 6'8" forward from the NBA Academy Latin America in Mexico. Dude is giving off some serious Kevin Durant vibes. Here is his profile (
note:
he already has an agent
):
https://basketball.realgm.com/player...Summary/145821
Some highlights:
https://www.youtube.com/watch?v=4PDO3YEgjSQ
https://www.facebook.com/jrnba/video...0776083172476/
'An old soul': High school hoops phenom is grandson of ABA Pacers Hall of Famer Roger Brown
https://www.yahoo.com/now/old-soul-h...100114223.html
Ryan Mikesell recently did an interview with WCSM-FM in Celina about hooping overseas:
https://twitter.com/WCSMRadio/status...C92Z62oZktAAAA
WCSM was formerly owned by my old WVUD buddy, the late Chris Caggiano.
UDPride MB poster Moville will be pleased to hear that Kramer's, the original UD dive bar since 1933, is set to reopen on March 6th:
https://www.daytondailynews.com/what...N4WQB4C6W53BU/
I still remember watching Negele Knight and UD beat Illinois in the 1990 NCAA Tournament while standing on the bench of a picnic table in Kramer's. Boy, that was some business trip!
From the "Don't believe everything you read on the internet department" comes this from something called Samurai Hoops:
Samurai Sources tell The Dojo…High Point is currently pursuing joining the Atlantic 10 Conference…
Ever wonder what the inspiration was for the Steely Dan hit "Ricki Don't Lose That Number?" Wonder no more: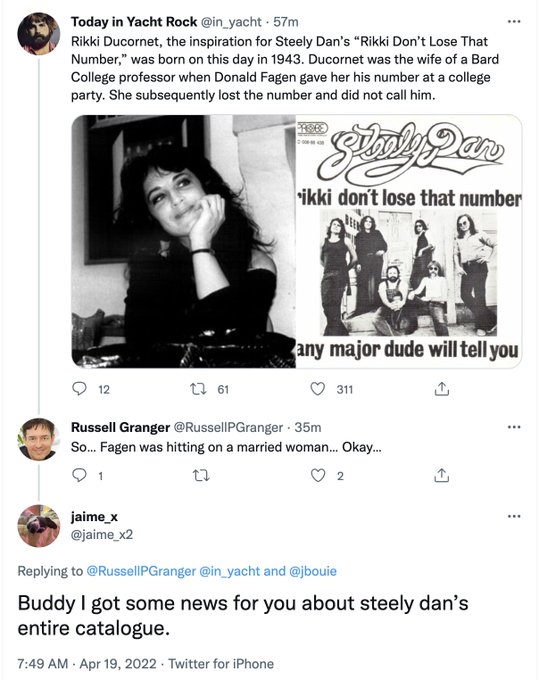 That's it
"From the Swamp."
You can email me at:
swampy@udpride.com