BEVERLY HILLS (MI) – The premiere episode of
Full Swing,
the new
Netflix
series about the rigors of professional golf is entitled "Frenemies." It chronicles the relationship between Justin Thomas and Jordan Speith, childhood friends who compete every week on the PGA Tour. Obviously pro golf is radically different from college basketball as it is every man for himself vs. a team game. The moral of the episode is that it is a biatch competing with your best friend, no matter what the sport.
And so it is with Anthony Grant and his BFF, Frank Martin, the head coach at
UMass
, the team that hosts UD on Wednesday evening. AG and Martin have been buds since they sat next to each other their first day of high school in Miami.
The Daily Hampshire Gazette
captured the essence of their bond in this profile of the two head coaches:
https://www.gazettenet.com/UMass-bas...Grant-48408762
"I know who he is, man. I know his core values. We were just laughing about it earlier. We were both 14 years old, we're both two little kids that knew nothing about nothing," said Martin, the first-year UMass head coach, at Atlantic 10 Men's Basketball Media Day on Thursday at the Barclays Center. "We got in trouble together, we've done the right things together. We both had the courage to get into college basketball, coaches coming from a community that never puts out college coaches."

"He was our star player in high school. What made him great was he was a star teammate, not just how good he was as a player," Martin said. "I go to college (at Florida International), and my first college paper ever was about him. That's how impactful he was."

AL.com
captured AG's side of the story in this piece:
https://www.al.com/sports/2012/11/an...st_fan_it.html
"Frank was, I would call him the fifth option out of four options in the offense, but yeah, we were playing a fall league game, and he filled the break," Grant said. "I said, listen, if Frank's going to run that hard to fill the lane, I'm going to give it to him, and I gave it to him, and the scream that he let out let me know that I shouldn't have given it to him. That was the end of him filling the break."
(Note: Martin broke his ankle)
Grant and Martin got started in coaching at about the same time and in the same place -- in the late 1980s at their high school alma mater, serving as assistants for Miami Senior High coach Marcos "Shaky" Rodriguez. Grant said that his friendship with Martin goes far beyond basketball, however.

"A friend is probably not a strong enough term -- more like a relative," Grant said. "He was at my wedding. He knows all of my children. We worked together for several years and have shared so many experiences.
Martin summed it up this way:
"I don't like competing against him."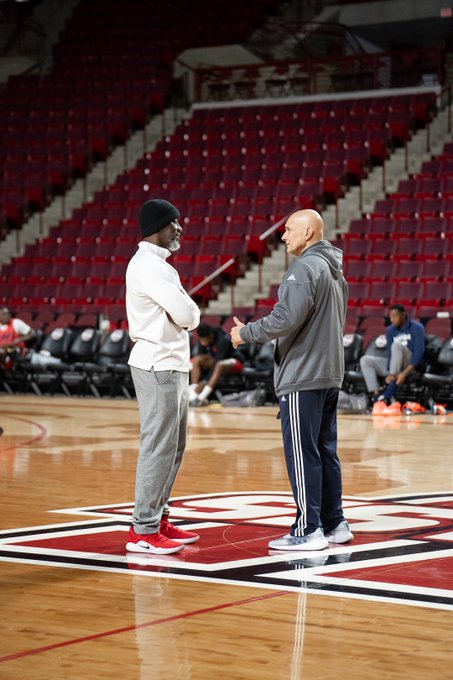 Thankfully for the two of them, UD and UMass only play once a season.
Elsewhere in Flyerland:
A glance in the rear view mirror never hurts: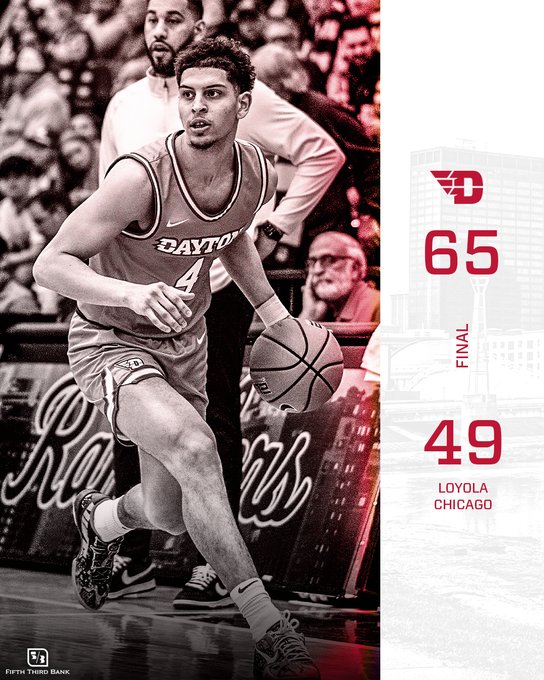 Reading the game thread on
Ramblermania
is kinda depressing:
https://www.ramblermania.net/forum/v...t=3573&start=0
Some serious dunkage from Toumani:
https://twitter.com/DaytonMBB/status...51208877879296
And Mike:
https://twitter.com/DavidPJablonski/...58210211262464
Speaking of Mike, he is included in this piece entitled "Film Study: Overachieving Freshmen":
https://www.prospectiveinsight.com/p...eving-freshmen
Not a big fan of
CBS Sports Network
college hoops analyst Jon Rothstein pimping the betting odds for the Loyola game. Either be an analyst or a bookie–you can't be both as far as
"FTS"
is concerned:
https://twitter.com/JonRothstein/sta...CzncisjJMtAAAA
Dayton is included in this list from
Bleacher Report
of "Fallen Preseason Contenders Still Capable of 2023 March Madness Runs":
https://bleacherreport.com/articles/...h-madness-runs
The Cincinnati Enquirer
profiled the legendary work ethic of former UC head coach and current UD assistant John Brannen:
https://www.cincinnati.com/story/spo...ky/3495482002/
"NBA All-Star 2023: Thank the Elam Ending for the thrilling fourth-quarter finish in Salt Lake City":
https://www.espn.com/nba/story/_/id/...salt-lake-city
That's it
"From the Swamp."
You can email me at:
swampy@udpride.com