BEVERLY HILLS (MI) – It's time once again for the irregular
"From the Swamp"
feature
"What do we know about…"
This upcoming hoops season it will be particularly useful, as the
Flyer Faithful
will literally not be able to tell the players without a scorecard. We begin with the first recruit to commit to UD, Jaiun Simon, a 6'7" 190 pound wing who averaged 18 PPG, 7 RPG and 3 APG as a senior for Pebblebrook (GA) HS.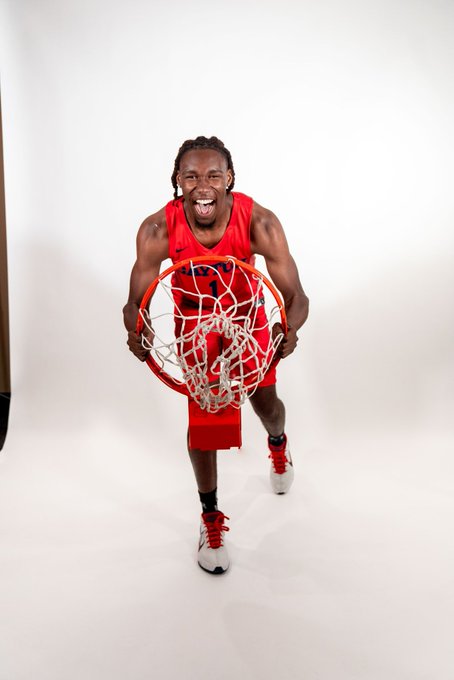 First off, if you are wondering how to pronounce Simon's first name it is "Jay-un" kinda like Jason without the 's.' Jaiun is young for his class as he will not turn 18 until this August. For his efforts, Simon earned Region 2 7A Co-Player of the Year honors.
This is what AG had to say when Simon signed on the line which is dotted: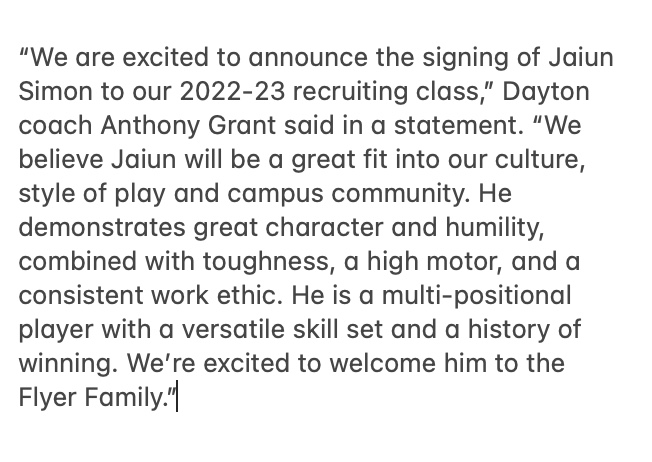 His commitment video is kinda cool:
https://m.facebook.com/DaytonMBB/vid...4762536710130/
Jablo had some tweets about Simon after he had committed:
Spoke to Jaiun Simon (@jaiun3) today about his commitment to Dayton and his visit to UD: "It was just a good environment," Simon said. "Everybody was really nice. There was really good hospitality. And (committing) just felt like the right thing to do."

I also talked to Pebblebrook coach George Washington (@gewj2391), who said of Simon, "He's very versatile and has really big motor. He's a really good student and a hard worker. He's in the gym early in the morning and in the gym late at night."

I talked to Demond McCullough, of @gameeliteatl, about new Dayton recruit Jaiun Simon. He said UD got a steal in Simon, who he said fits Anthony Grant's system well. "He's a special kid," McCullough said. "He's young. He's going to grow some more. He's a winner."
Which David then incorporated into this piece about Jaiun in the
DDN:
https://www.daytondailynews.com/spor...A3I3M25YBXJXQ/
Here is Jaiun's
VerbalCommits
page:
https://verbalcommits.com/players/jaiun-simon
His
247Sports
page:
https://247sports.com/Player/Jaiun-Simon-46132623/
Jaiun's Twitter page:
https://twitter.com/jaiun3?lang=en
Some highlight reels of Jaiun and Pebblebrook in action:
https://www.youtube.com/watch?v=YawaO7Oqzfw
https://www.youtube.com/watch?v=ImxLlcDXS-I
https://www.youtube.com/watch?v=ikzfbow-TmM
https://www.youtube.com/watch?v=7kFZIjGQI0M
Finally, Simon and his date looked pretty dapper when they attended his prom:
https://www.instagram.com/p/CrZJLH8u82R/
That's it
"From the Swamp."
You can email me at:
swampy@udpride.com